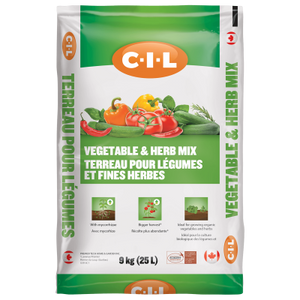 Vegetable & Herb Mix is a rich blend of ingredients designed to help support strong and healthy plant growth. This growing medium is the perfect garden soil to produce even more vegetables and herbs.  
For vegetables & herbs
Loosen existing soil to allow roots to expand easily for more vigorous plant growth.
Work in a 2-4 cm (1 in) layer of this product with the existing garden soil before transplanting or seeding.
Your garden is now ready for your transplants and your seeds! Water thoroughly and frequently for optimal results.