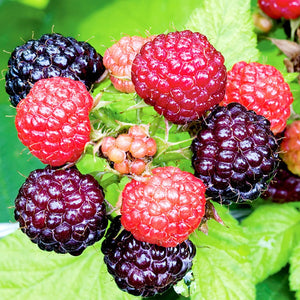 Botanical Name: Rubus occidentalis 'Jewel' 
Group/Class: Primocane
Height: 4 feet
Spread: 3 feet
Sunlight: Full Sun
Hardiness Zone: 4a
Soil Type: Normal to Rich
Pollinator Friendly: Yes
Pollination: Self-pollinating
Jewel Black Raspberry is mainly grown for its edible qualities. It produces black, firm, glossy and flavorful fruit that can be eaten fresh, or used in cooking, baking and preserves. 
The foliage and flowers are not ornamentally significant. Jewel Black Raspberry does, however,  produce an abundance of beautiful black berries from late spring to early summer.  If you are keen on attracting local butterflies and birds to your yard, the Jewel Black is a good choice. Otherwise, cover with a net to protect your crop. 
Jewel Black should be planted organically rich soil that is not allowed to dry out. Plant it in its own designated space away from other plants for best results. It will perform best in full sun. Each spring prune everything but last years' growth to the ground.