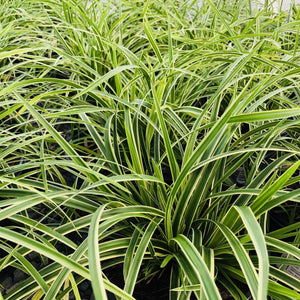 Botanical Name: Carex Morrowii 'Ice Dance'
Type: Rush or Sedge
Family: Cyperaceae
Hardiness Zone: 5
Height: 30cm (12")
Width: 50cm (20")
Sunlight: Full sun to Partial Shade
Water: Medium to wet
Maintenance: Low
Suggested Use: Naturalize, Rain Garden, Edging, Ground Cover
Blooms: Jun-Sept
Foliage: Variagated
Tolerate: Deer, Heavy Shade, Erosion, Wet Soil
A spectacular, variegated ornamental grass; beautiful as an accent plant in the shaded perennial garden or as a ground cover. An attractive foliage contrast to bold-textured shade plants such as hosta, coral bells and bergenia. 

Combine with other shade loving plants such as hostas in a moist, shady border. Needs regular watering.